Hockey Road Trip, Fall 2004
Week One - Southwest - Sat, 10/16 - Fri, 10/22
Week Two - Texas - Sat.,10/23 - Fri, 10/29
Week Three - Southeast - Sat, 10/30 - Fri, 11/5
Week Four - Southeast - Sat, 11/6 - Fri, 11/12
Week Five - Mid Atlantic - Sat, 11/13 - Fri, 11/19
Week Six - Long Island - Sat, 11/20 - Fri, 11/26
Week Seven - Midwest - Sat, 11/27 - Fri, 12/3
Week Eight - Midwest - Sat, 12/4 - Fri, 12/10
Week Nine - Las Vegas - Sat, 12/11 - Fri, 12/17
Week Ten - California - Sat, 12/18 - Fri, 12/24
About Me

Wednesday, 10/27
Didn't do much in Galveston. Had a wonderful dinner (last night) at Landry's, looking out over the ocean/gulf. Spent more $ on dinner than I did for hotel. Ahhh... but it was delicious.... Seafood Gumbo, Seafood Salad.
Toured the historic district but it was too early for anything to be open. Decided to head to Shreveport/Bossier City.
Mudbugs hockey game tomorrow!
Thursday, 10/28

Thursday evening I attended the Mudbugs vs. Tarantulas hockey game at CenturyTel Center. This evening's 'theme' was Election Night. They handed out little American Flags, the Mudbugs had special Election Jerseys that were auctioned off after the game.
Some notes:
There were nice wide concourses in the arena. Made traffic flow easy.
All seats were cushioned.
Fans did throw out plastic red mudbugs after the team scored a goal.
Puck in play rule was in place and enforced. Sweet.
Excellent between period entertainment: Indian dance, shoot the puck from the blue line into the net and get $100. Some of the t-shirts thrown into the stands had a $100 bill in them.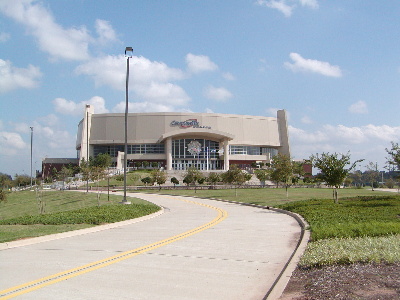 Here's the outside of CenturyTel Center. It was not in a downtown area. Ample parking (free) and beautifully landscaped surroundings. The arena is about three years old and seats 12,500.


The inside of CenturyTel. Notice all the banners hanging from the rafters. They're all for championships of some kind for the Mudbugs over the last few seasons.
The arena did have suites between the first and second levels. I didn't capture that well in this photo.


Game Seven - CenturyTel Center
Mudbugs vs. Tarantulas
Score: Tarantulas 3 - Mudbugs 2

Friday, 10/29

Spent the entire day driving. Went through 5 states: Louisiana, Mississippi, Alabama, Georgia, and South Carolina.
My intent was to make it to a Greenville (SC) Grrrowl game this evening but at 7:30 I had just passed through Friday afternoon rush hour Atlanta traffic and was just northeast of Atlanta.
Didn't get to Greenville till about 9:30 pm.
When I finally got to Greenville, John picked me up at his place and we went to the IHOP to meet with other Grrrowl hockey friends.
It was a very long day for me. Glad that's the first and last 12 hour day of driving this trip.