Hockey Road Trip, Fall 2004
Week One - Southwest - Sat, 10/16 - Fri, 10/22
Week Two - Texas - Sat.,10/23 - Fri, 10/29
Week Three - Southeast - Sat, 10/30 - Fri, 11/5
Week Four - Southeast - Sat, 11/6 - Fri, 11/12
Week Five - Mid Atlantic - Sat, 11/13 - Fri, 11/19
Week Six - Long Island - Sat, 11/20 - Fri, 11/26
Week Seven - Midwest - Sat, 11/27 - Fri, 12/3
Week Eight - Midwest - Sat, 12/4 - Fri, 12/10
Week Nine - Las Vegas - Sat, 12/11 - Fri, 12/17
Week Ten - California - Sat, 12/18 - Fri, 12/24
About Me

Saturday, 10/23
Drove from Amarillo to San Angelo today. Stopped in Big Springs to have lunch. Lots of dead skunk on the trip down.


This is alot of what I saw on my trip to San Angelo. Rest assured, there was some kind of 'road kill' by my feet as I took this photo.



Went to the San Angelo Coliseum to watch the San Angelo Saints vs. Odessa Jackolopes. Can't say I had the best of times at this game/arena. Listed are some notes of my visit:


The arena itself is drab and boring. Brown walls and ceiling, blue seats. Boring.
I kept slipping off my chair. Think it was broken.
Music was played while announcing penalties. Couldn't hear.
There was no 'puck in play' rule.
There were 'cheerleaders.' Black outfits, showing skin, gold pom pom's.
The Booster Club members were pleasant. They had heard of the Grrrowl.
Giveaway was Thunder Stix.
They announced the World Series score.
Fans were loud and vocal. Vulgar at some points.
Entertainment between 1st and 2nd was a sign contest. That was kind of cool.
Lots of Odessa fans at this game. Took up one whole section.
I can't quite pin point why I didn't care for the game here. I think, perhaps, I was spoiled by my experience in Amarillo.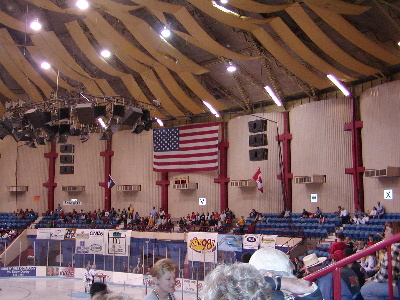 San Angelo Coliseum
Our friends up north, once again, get the shaft on flag size. They did, however, play the Canadian National Anthem here.


Game Five - San Angelo Coliseum
Saints vs. Jackolopes
Score: Saints 4 - Jackolopes 2


Sunday, 10/24

I traveled from San Angelo to Austin, TX.
Saw the Austin Ice Bats vs. Laredo Bucks at the Travis County Expo Center.
Here are some notes about the game/arena I saw there:
The Expo Center was quite a distance from downtown.
The second level of seating was metal benches with a strip of metal backing (it's where I sat and it wasn't so bad).
Kudos to the Ice Bats organization. They had a 'puck in play' rule and they enforced it!
I couldn't understand the announcer at all. The speaker system was muffled and there was a slight echo. Needless to say, much of my scoresheet is blank expect for period, team, and time.
The Austin fans were a little more respective than the San Angelo fans (maybe because it was a Sunday afternoon game). I liked it.
I didn't notice a net above the seating area above the goaltender.
I liked the Laredo away jerseys. Blue with brown horns.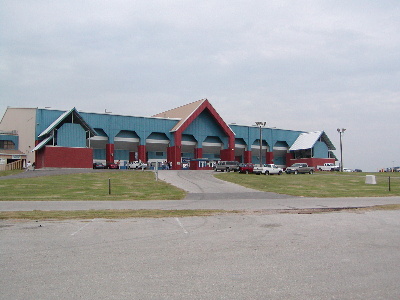 Travis County Expo Center
Here's the outside of the arena. Looks different than most ice hockey rinks I've been to. Not bad; just different.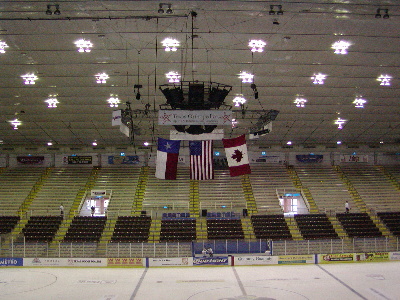 This is what you saw when you walked into the arena. Excellent job at displaying the Texas, U.S., and Canadian flag. They did not, however, play the Canadian National Anthem. This photo shows the metal benches on the second level.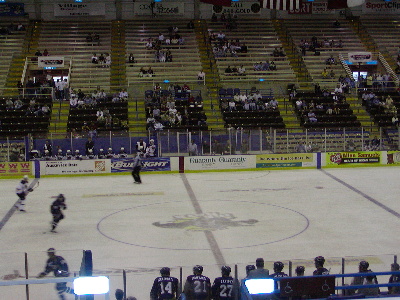 One other 'different' thing I noticed at this arena that I had not seen before.
The home bench and penalty boxes were on one side of the ice (above the Bud Light and Guaranty Bank signs). The visitor's bench was on the opposite side of the ice (you can see players 14, 21, and 27 watching the action in this photo).


Game Six - Travis County Expo Center
Ice Bats vs. Bucks
Score: Bucks 6 - Ice Bats 2



Next
Previous
Home


Hockey Home Page
Baseball Home Page