Hockey Road Trip, Fall 2004
Week One - Southwest - Sat, 10/16 - Fri, 10/22
Week Two - Texas - Sat.,10/23 - Fri, 10/29
Week Three - Southeast - Sat, 10/30 - Fri, 11/5
Week Four - Southeast - Sat, 11/6 - Fri, 11/12
Week Five - Mid Atlantic - Sat, 11/13 - Fri, 11/19
Week Six - Long Island - Sat, 11/20 - Fri, 11/26
Week Seven - Midwest - Sat, 11/27 - Fri, 12/3
Week Eight - Midwest - Sat, 12/4 - Fri, 12/10
Week Nine - Las Vegas - Sat, 12/11 - Fri, 12/17
Week Ten - California - Sat, 12/18 - Fri, 12/24
About Me

Sunday, 12/19
Today, I travelled from Bakersfield, CA and ended up in Lake Havasu City, AZ.
And guess what I woke up to? Fog. It lifted about an hour on the road and I had a nice scenic drive through the Mojave Desert.
Was going to stop in Kingman but decided to take a jaunt here to see the London Bridge. I'll do that tomorrow morning.
Monday, 12/20

Today, I visited the London Bridge and drove across Arizona. I stopped and visited a meteor crater. Ended up in Gallup, NM.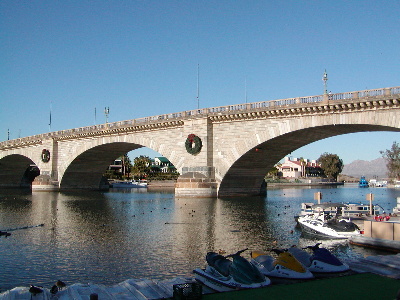 The London Bridge was transported, stone by stone to Lake Havasu, AZ in 1964. There's an 'English Village' below the bridge with shops and places to eat. One can rent a boat or paddle boat and spend the day in the lake.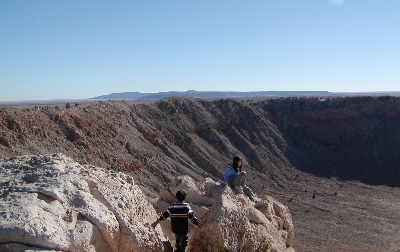 A meteorite crashed into earth nearly 50,000 years ago, resulting in a crater that is 4,150 ft. in diameter, 550 ft.deep and 2.4 miles in circumference. There's an observation area, movie, and interactive exhibits to view. They even offered guided hikes around the circumference. I didn't do that.
This was taken from the observation area.




Meteor Crater
It was in the middle of the desert. Isn't that just beautiful?


Tuesday, 12/21

I travelled from Gallup, NM back home to Castle Rock, CO. Was going to make it a two day trip but they predicted snow on Wednesday. I wanted to beat the snow. And I did, just a few flurries by Colorado Springs.
Trip is over.
Wednesday, 12/22

Relaxed at home. Was snowed in anyway.

Thursday, 12/23

Shoveled driveway. Took a nap. Relaxed.

Friday, 12/24

Went to supermarket and got stuff to make for Christmas dinner. Went to Blockbuster. Got 5 movies to watch over an expected weekend of doing nothing.
Click on the Next link below to view a summary of my trip.

Next
Previous
Home


Hockey Home Page
Baseball Home Page