Hockey Road Trip, Fall 2004
Week One - Southwest - Sat, 10/16 - Fri, 10/22
Week Two - Texas - Sat.,10/23 - Fri, 10/29
Week Three - Southeast - Sat, 10/30 - Fri, 11/5
Week Four - Southeast - Sat, 11/6 - Fri, 11/12
Week Five - Mid Atlantic - Sat, 11/13 - Fri, 11/19
Week Six - Long Island - Sat, 11/20 - Fri, 11/26
Week Seven - Midwest - Sat, 11/27 - Fri, 12/3
Week Eight - Midwest - Sat, 12/4 - Fri, 12/10
Week Nine - Las Vegas - Sat, 12/11 - Fri, 12/17
Week Ten - California - Sat, 12/18 - Fri, 12/24
About Me

Wednesday, 11/24
Drove from the VA border to Hershey, PA. Saw a Bears game then headed to LI for Thanksgiving dinner.
Rain the ENTIRE way.
Made it to Hershey about 3 pm. Went to G-Man Sports Bar and Grill to pass the time till the game (G-Man is Gingerbread Man.)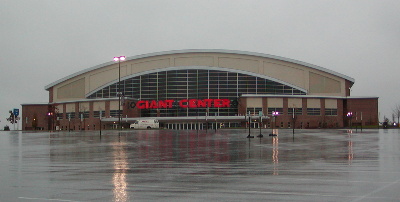 The Giant Center is where the Hershey Bears play. It is pretty much adjacent to Hershey Park. You can tell from this photo it has been raining and raining and raining.


Game/Arena Notes:
The Giant Center is 3 years old. It seats 10,500 for hockey games.
It is similar to NHL arenas, e.g., size, concourse, merchanidise. Video display is as nice as Gwinnett arena.
Not a whole lot of whistles during this game; icing, penalties, etc.
Ref got hit by a puck. Had to wait for some minor medical care for him. He was able to finish the game. Ref was Ryan Fraser (former ECHL ref.)
Stanley Cup was being displayed at Giant Center before this game.
One intermission was 'turkey bowling.' Plastic bowling pins in the goal, the contestant had to roll a frozen turkey to knock down the pins.
The game, itself, was not played like I would expect of an AHL team. It was played more like an ECHL or CHL game. (Guess I was spoiled by the Norfolk game I saw.)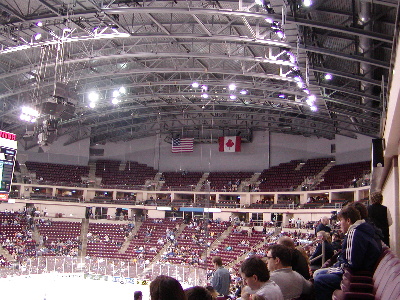 The Giant Center proudly displays both the American and the Canadian Flag. Attendance at this game was 7,178.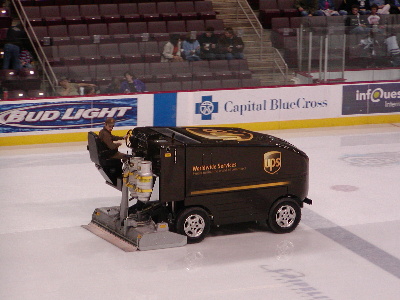 What can BROWN do for you?


Game Twenty Two
Bears vs. Falcons
Score: Bears 2 - Falcons 1

After the game, we headed east to LI. John encountered his first experience of driving through NYC. We actually went south to the Outerbridge Crossing and on to Statan Island and on to the Verrazano Bridge to Brooklyn. Both John's knuckles and his steering wheel will never been the same. Rain, couldn't see the lines, dark, over a bridge, on not so smooth roadways. Hope I navigated somewhat well for you, John. Thanks for driving.

Next
Previous
Home


Hockey Home Page
Baseball Home Page