Hockey Road Trip, Fall 2004
Week One - Southwest - Sat, 10/16 - Fri, 10/22
Week Two - Texas - Sat.,10/23 - Fri, 10/29
Week Three - Southeast - Sat, 10/30 - Fri, 11/5
Week Four - Southeast - Sat, 11/6 - Fri, 11/12
Week Five - Mid Atlantic - Sat, 11/13 - Fri, 11/19
Week Six - Long Island - Sat, 11/20 - Fri, 11/26
Week Seven - Midwest - Sat, 11/27 - Fri, 12/3
Week Eight - Midwest - Sat, 12/4 - Fri, 12/10
Week Nine - Las Vegas - Sat, 12/11 - Fri, 12/17
Week Ten - California - Sat, 12/18 - Fri, 12/24
About Me

Wednesday, 10/20
I spent last night at Radi's and Jim's. Left when Radi left for work and headed to Peoria Stadium to watch the Peoria Saguaros vs. the Grand Canyon Rafters.
Got my nails manicured to pass some time.
Another AFL game. And it was wonderful. Got a bit of sunburn, saw some former G-Braves. A manager (Bruce) got thrown out of the game because he was arguing with the umpire (Rusty) about a check swing called a strike. Because the attendance was less than 200, one could hear every word. I think he got thrown out not so much because he was arguing but because of the language he used.
The manager (Bruce) was right, though. It was a check swing. The umpire (Rusty) didn't even ask for assistance with that call.
Game Three - Peoria Sports Complex 1:05 pm
Saguaros vs. Rafters
Score: Rafters 8 - Saguaros 4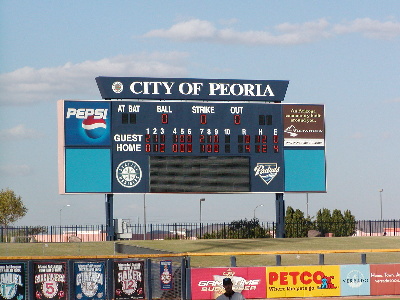 There you have it. Guest 8, Home 4.
Several errors in this game.


After the game, I headed north on I-17 and ended up just west of Flagstaff for the evening.

Thursday, 10/21

I spent the day traveling from Flagstaff, AZ to Santa Rosa, NM. 'Twas a long drive. Cruised east on I-40 listening to some 'Fine Young Cannibals.'
A funny thing happened at the visitor's center in NM. It was cold out. VERY windy. I went to the rest room then shivered as I walked into the visitor's center. When I walked in that door and closed it, the temperature went up 30+ degrees. I poured myself some coffee and looked around for an indoor place to visit in NM. I must have been muttering about how cold it was outside. Muttering alot because the visitor center host looked at me with a puzzled face and said "Ma'am, it's not THAT cold out." I paused, looked at him, muttered something about "very windy," then shut my trap.

I stayed in there another 5 minutes or so without a word, finishing my coffee then headed out to continue my trip.

I arrived Santa Rosa around 4:30 pm. Walked to the Route 66 diner and had dinner. Then tried to access the web via the DSL line in the room. Didn't work. So, I watched the Cardinals beat the Astros in Game 7 of the NLCS.

Friday, 10/22

I left Santa Rosa a bit after 8 am this morning headed to Amarillo, TX.

Will see my first of many hockey games this evening. The Amarillo Gorillas vs. the Odessa Jackolopes. CHL (Central Hockey League).


Attended the Gorillas season opener. Some notes about this arena and the game attended in Amarillo:


Their game notes were called 'The Jungle Book.'
Yellow plastic bananas were thrown on the ice after a Gorilla scored a goal.
I noticed all players (both teams) wore the half face shield. The folks sitting next to me said that wasn't the case last year. Wondering if that's a CHL rule or a new rule for all minor leagues.
The officials were late on to the ice starting the 2nd period. The players had been skating 3 or 4 minutes before the officials skated on.
There were two short handed goals (by the Jackolopes) on one penalty.
Joel Irving played for the Jackolopes. I seem to remember him as a Sting Ray.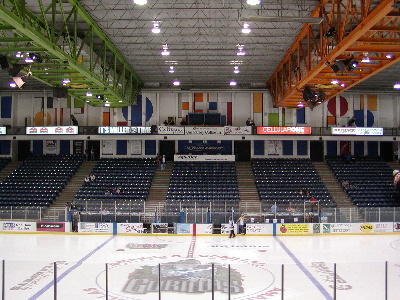 Here's the inside of the Amarillo Civic Center. Bright and colorful. No center scoreboard. Penalty boxes were between the two players benches. (Kind of like the Asheville Civic Center).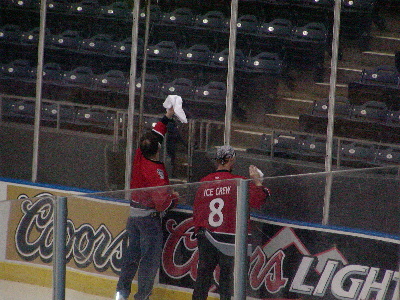 Look, John! Look at what they're doing to the glass! Right about where you sit at the BLC.




Game Four - Amarillo Civic Center
Gorillas vs. Jackolopes
Score: Jackolopes 5 - Gorillas 3