Hockey Road Trip, Fall 2004
Week One - Southwest - Sat, 10/16 - Fri, 10/22
Week Two - Texas - Sat.,10/23 - Fri, 10/29
Week Three - Southeast - Sat, 10/30 - Fri, 11/5
Week Four - Southeast - Sat, 11/6 - Fri, 11/12
Week Five - Mid Atlantic - Sat, 11/13 - Fri, 11/19
Week Six - Long Island - Sat, 11/20 - Fri, 11/26
Week Seven - Midwest - Sat, 11/27 - Fri, 12/3
Week Eight - Midwest - Sat, 12/4 - Fri, 12/10
Week Nine - Las Vegas - Sat, 12/11 - Fri, 12/17
Week Ten - California - Sat, 12/18 - Fri, 12/24
About Me

Saturday, 10/16
Left home around 9 am and headed to Durango, CO. Drove down I-25 then headed west on US160. Quite a beautiful state I live in.
Got to Durango just about 5 pm. I took my time and made several pit stops. Watched the Yankees slaughter the Red Sox that evening on TV.
Sunday, 10/17
Headed out early to catch the Durango-Silverton Train. This train is an old steam locomotive that travels 3 1/2 hours to Silverton (a car can make it in 1 hour). It travels along part of the Animas River. Beautiful scenery. Silverton is an old mining town which now looks like its main source of income is the tourists. The entire town is a historical landmark.
Spent two hours touring Silverton. Had lunch at The Pickle Inn. It started to snow. Fortunately, I had come prepared with several layers of clothing. Anyone surprised? Then boarded the train and headed back to Durango. I ate dinner at Gazpacho - New Mexican Cooking. It was walking distance from my hotel. The food was a tad too spicy for my liking but after two margaritas, I wasn't minding it too much.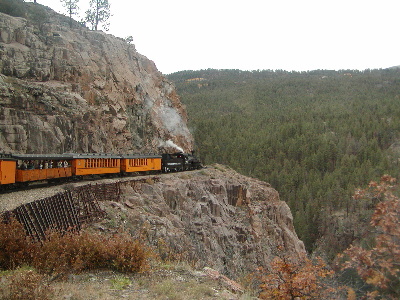 Here's the Durango-Silverton Train and the beautiful scenery. I, of course, chose to sit in the 'closed' car.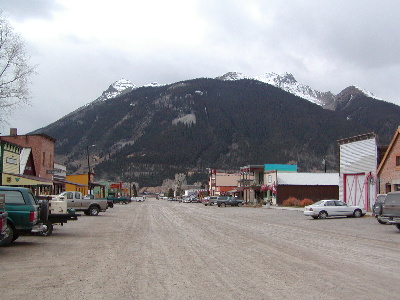 This is the historic block of Silverton. Majestic view of the mountain. Note the dirt road. I only saw one paved road in Silverton.


Monday, 10/18

Left Durango a little after 8am and headed toward Phoenix, AZ. I traveled through three states: Colorado, New Mexico, and Arizona. I planned on stopping around Flagstaff but realized I had gained an hour (time zone) so continued on. I'm 20 or 30 miles north of Phoenix now.
Although I've spent a lot of time driving, I love doing that. I get to see parts of the country I would not have been able to.
Tuesday, 10/19

Went to two AFL (Arizona Fall League) baseball games today. The AFL is a fall (Oct. and Nov.) baseball league of top minor league prospects (A, AA, and AAA) used to give the players extended playing time and more practice.
If you like minor league baseball, these are the games to go to. It is pure baseball. About 200 fans in the stands. No gimmicks or mascots. You can hear the players talking to each other as well as other conversations in the stands. You can hear the pitcher grunt when throwing a pitch (especially the relievers). $5. General Admission. Decent music played at appropriate times.
It was delightful.
Radi, a relative/friend played hooky from work and attended both games with me. Her husband, Jim, joined us for the evening game.
Game One - Scottsdale Stadium, 1:05 pm
Solar Sox vs. Rafters
Score: Rafters 7 - Solar Sox 2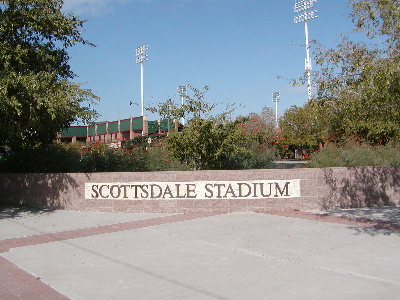 Here's the outside of Scottsdale Stadium. It was quite a nice facility. It was in a 'park like' setting, benches around the stadium to sit and wait for the game.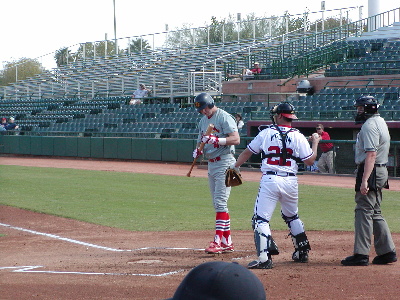 Look at those hi-socks! Can't get much better than that. Red sneakers too.
This was a player named Duncan from the Cardinals farm team. All Cardinals players wore their socks like that.
The catcher is McCann from the Braves farm team. Think he played in Myrtle Beach this past season.
You can also tell how empty the stadium was in this photo.


Game Two - Phoenix Municipal Stadium 7:05 pm
Scorpions vs. Desert Dogs
Score: Scorpions 5 - Desert Dogs 3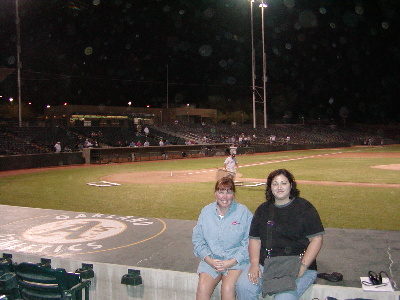 Here's me and Radi at Phoenix Municipal Stadium.





Wow. Wish I could do that without falling over.
This is Michael McNutt from the Devil Rays farm team.