Hockey Road Trip, Fall 2004
Week One - Southwest - Sat, 10/16 - Fri, 10/22
Week Two - Texas - Sat.,10/23 - Fri, 10/29
Week Three - Southeast - Sat, 10/30 - Fri, 11/5
Week Four - Southeast - Sat, 11/6 - Fri, 11/12
Week Five - Mid Atlantic - Sat, 11/13 - Fri, 11/19
Week Six - Long Island - Sat, 11/20 - Fri, 11/26
Week Seven - Midwest - Sat, 11/27 - Fri, 12/3
Week Eight - Midwest - Sat, 12/4 - Fri, 12/10
Week Nine - Las Vegas - Sat, 12/11 - Fri, 12/17
Week Ten - California - Sat, 12/18 - Fri, 12/24
About Me

Thursday, 12/16
Today, I took a tour of Petco Park then travelled north, ending up in Bakersfield, CA.
I also received a message that my radio interview with the Topeka Tarantulas will be broadcasted Sat, 12/18 between the 2nd and 3rd period. Game time is 7:11 CT. I'm guessing between 8:30 and 9:00 CT would be the airing.

Petco Park is the home of the San Diego Padres. It opened April, 2004. I had a private tour of the park by a nice gentleman named Grant. Spent about an hour and a half touring the park. It was excellent. Can't wait to come back and see a game here. Perhaps next summer when the Braves are in town.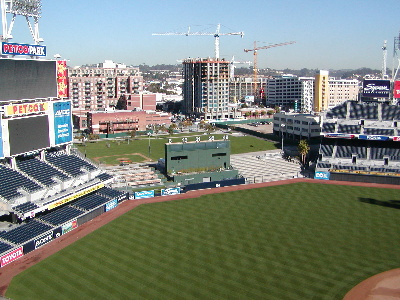 Here's Petco Park looking out beyond the center field. You can see the 5 retired numbers on the green backdrop.


Beyond that is what is called the park within a park. Fans can purchase a ticket for $5 and bring a blanket and watch the game from there. They still get to go into the stadium and concourse and view the game from there. I've seen that at spring training games and in the minor leagues but never before at a MLB ballpark. It's a VERY fan friendly park.
There's lots of construction happening in the area. A hotel and a condominium complex are being built as part of the restoration of this part of San Diego.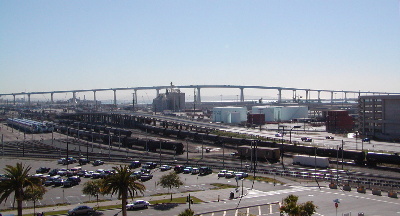 The arena has several spots overlooking the San Diego area.
This one portrays the Coronado Bridge. The hills in the background (can't really see them in this photo) are in Mexico.
The train yard is outside the arena, as well.
Best bet to get here is by taking the trolley. There's a stop right outside the stadium.




To the center left of this photo, you'll see a brick building called the Western Metal Supply Building. One can rent a 'suite' for 20 individuals/ $75 a person (food and drinks included) for a game. Quite nice.
Also, in the background of this photo, you can see the San Diego skyline. It's quite a nice area of the country. Only two rain out games in the history of the team.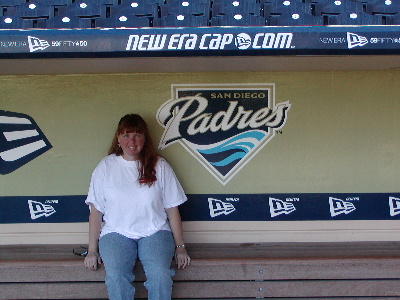 Here's your's truly in the dugout. Next to me (not photographed) was a rookie Padre learning the English language.
Not a better place to learn it than a ballpark!


After tour of park, headed north to Fresno. Traffic like you've never seen! Gusty winds! It's a whole other world out here.
Friday, 12/17
Drove from Bakersfield to Fresno today.
Fog, fog, and more fog.
I didn't make it to the game after all that. Was extremely tired and the fog rolled in again around 5 pm PT. Couldn't see the roads.
Think I'm going to pass up going to Salt Lake City and just head back to Colorado.

Next
Previous
Home


Hockey Home Page
Baseball Home Page