Hockey Road Trip, Fall 2004
Week One - Southwest - Sat, 10/16 - Fri, 10/22
Week Two - Texas - Sat.,10/23 - Fri, 10/29
Week Three - Southeast - Sat, 10/30 - Fri, 11/5
Week Four - Southeast - Sat, 11/6 - Fri, 11/12
Week Five - Mid Atlantic - Sat, 11/13 - Fri, 11/19
Week Six - Long Island - Sat, 11/20 - Fri, 11/26
Week Seven - Midwest - Sat, 11/27 - Fri, 12/3
Week Eight - Midwest - Sat, 12/4 - Fri, 12/10
Week Nine - Las Vegas - Sat, 12/11 - Fri, 12/17
Week Ten - California - Sat, 12/18 - Fri, 12/24
About Me

Saturday, 11/6
Today was a travel day. Nothing to write home about. Drove from Charleston, SC and ended up in Tallahassee, FL. Went through three states: SC, GA, and FL. Had never driven across the panhandle of Florida before. As I said, nothing to write home about. Off to Pensacola tomorrow to see an Ice Pilots game.
Sunday, 11/7
Drove from Tallahassee to Pensacola this morning.
I was quite surprised by the horrific damage hurricane Ivan had disposed on Pensacola. Trees uprooted, branches knocked off, signs blown away, sand over the roads down towards the water, playgrounds torn apart, thousands of people lost their homes and are living in temporary quarters. Some businesses down by the water are still closed. It was quite a devastating storm here.
I saw the Pensacola Ice Pilots beat the Augusta Lynx this evening at the Pensacola Civic Center, a.k.a., The Hanger.
Some notes:
I very much enjoyed this game. It was evenly played, not many penalties.
It was family day at The Hanger.
The winning goal came with 13 seconds left on the clock.
There was a female zamboni driver.
The Lynx have a female athletic trainer.
No Canadian Anthem was sung even though the Ice Pilots are an affiliate of both the Toronto Maple Leafs (NHL) and the St. John's Maple Leafs (AHL).
Fan base was loud and supported their team well by clapping, chanting, ringing cow bells. That was quite nice to witness.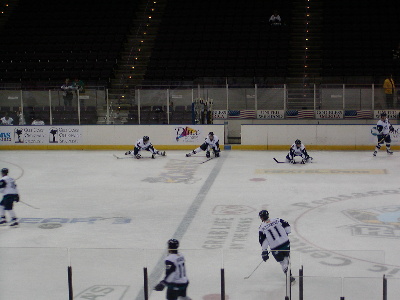 Aaahhhh....

warm ups!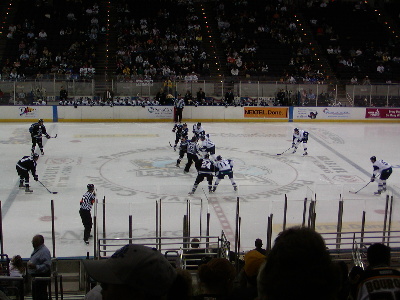 Pensacola Civic Center
Face off at start of third period. Lots of advertisements on the ice at this arena too. Ice Pilots in white, Lynx in black. One can actually read the numbers and names on the back of the Lynx's uniforms this season.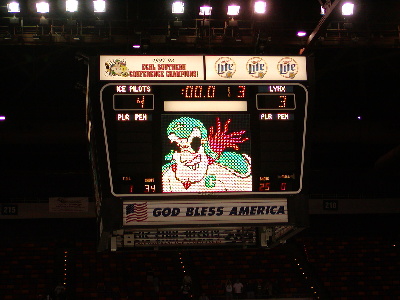 And there you have it. Ice Pilots 4, Lynx 3.
The mascot, shown on scoreboard in this photo, was pretty scary looking.


Game Thirteen - Pensacola Civic Center
Ice Pilots vs. Lynx
Score: Ice Pilots 4 - Lynx 3

Monday, 11/8
Today, I traveled from Pensacola, FL and ended up in Auburn, AL.
On the way north and east, I continued to see Ivan damage. Trees on top of houses, lots of work crews out cleaning up tree and branch damage from the highways. Kudos to those guys and gals doing that.
I stopped in Montgomery, AL for a few hours to visit the State Capitol building. I really wasn't expecting to like Montgomery that much. The city surprised me. I quite enjoyed my visit. I basically toured the government area. The State Capitol had a self guided tour. It's a beautiful building. Much of the history I learned in Charleston (Civil War history) was enhanced by my visit here. There was an excellent visitor's center housed in the old Union Station (railway station). There's much more to see and do in Montgomery. If I'm ever in the area again, I'd be sure to stop and visit.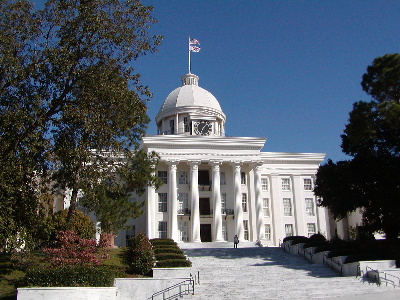 Here's the State Capitol building in Montgomery with the American and Alabama flag flying strongly on this beautiful fall day.




I ate dinner at Snapper O'Malley's (a sports bar and grill). There were two sports radio guys broadcasting live from the restaurant. They talked about Auburn football and college football in general. It was kind of cool being there as they broadcasted. I, of course, could not contribute to the show. I'm not a football fan.



Next
Previous
Home


Hockey Home Page
Baseball Home Page