Hockey Road Trip, Fall 2004
Week One - Southwest - Sat, 10/16 - Fri, 10/22
Week Two - Texas - Sat.,10/23 - Fri, 10/29
Week Three - Southeast - Sat, 10/30 - Fri, 11/5
Week Four - Southeast - Sat, 11/6 - Fri, 11/12
Week Five - Mid Atlantic - Sat, 11/13 - Fri, 11/19
Week Six - Long Island - Sat, 11/20 - Fri, 11/26
Week Seven - Midwest - Sat, 11/27 - Fri, 12/3
Week Eight - Midwest - Sat, 12/4 - Fri, 12/10
Week Nine - Las Vegas - Sat, 12/11 - Fri, 12/17
Week Ten - California - Sat, 12/18 - Fri, 12/24
About Me

Friday, 11/19
Made it to Norfolk. Even drove by the arena where the Admirals play so I know how to get there. Triple checked to make sure there was a game.
Good game at the Scope this evening with the Norfolk Admirals taking on the San Antonio Rampage (great name).
Notes:
This was my first AHL (American Hockey League) game this trip and I noticed a higher level of playing skill in this league. Better passing, faster skating, better checking, some bad penalties but not as bad as the CHL or ECHL games I've seen.
It was nice and cool in the arena. Something's wrong with me. The lady in front of me was wearing her coat and gloves and had a jacket over her lap. I was fine in just my jersey.
The National Anthem was presented by a gentleman playing a saxophone. Very nicely done.
I didn't notice a whole lot of fans wearing jerseys but there certainly were some get ups. Blue heads, patriots, face painted fans.
The sound system was horrible. Couldn't understand the announcer. Fortunately, for the most part, goals, assists, and penalties were displayed on the center dot matrix scoreboard. Plus, the couple sitting next to me helped me with my scorecard when I didn't hear.
Couldn't find the Booster Club table.
Parking garage was well lit. Quite a bit of traffic after the game.
The Admirals wore red jerseys; the Rampage wore white.
It appears the AHL denotes team records as Wins, Losses, Overtime Losses, and Shoot Out losses. So, for example, after this game the Admirals have a record of 10-5-1-1.
The arena is called Scope. From the outside, it reminded me of a spaceship. It is circular.
On the inside, the lights around the rim and the ceiling also remind me of a spaceship.
All seats were cushioned, though quite tight in arm and leg room.
This photo was taken during warm ups. There was a pretty full crowd for the game.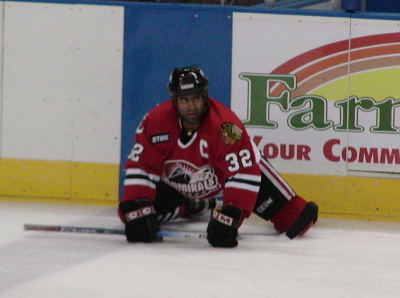 Some Grrrowl fans may remember this player. Ajay Baines, now captain of the Admirals.
Once thing I noticed about his play was he stood in front of the net, especially noticeable during the power play.
The AHL does not have a half face shield requirement.
The Admirals ended up winning in a shoot out.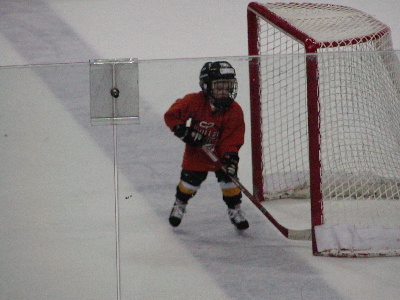 They had Pee Wee hockey as entertainment between periods. This little fellow was adorable. Didn't give up a goal! But, then again, didn't have any to face. 'Twas quite enjoyable.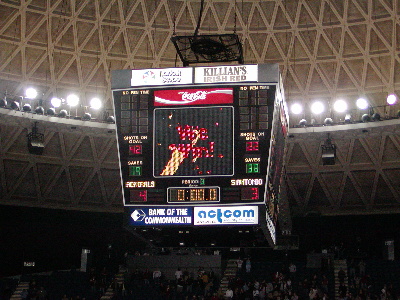 Admirals win in a shoot out, 4 - 3.


Game Twenty - Scope
Admirals vs. Rampage
Score: Admirals 4 - Rampage 3



Next
Previous
Home


Hockey Home Page
Baseball Home Page