Hockey Road Trip, Fall 2004
Week One - Southwest - Sat, 10/16 - Fri, 10/22
Week Two - Texas - Sat.,10/23 - Fri, 10/29
Week Three - Southeast - Sat, 10/30 - Fri, 11/5
Week Four - Southeast - Sat, 11/6 - Fri, 11/12
Week Five - Mid Atlantic - Sat, 11/13 - Fri, 11/19
Week Six - Long Island - Sat, 11/20 - Fri, 11/26
Week Seven - Midwest - Sat, 11/27 - Fri, 12/3
Week Eight - Midwest - Sat, 12/4 - Fri, 12/10
Week Nine - Las Vegas - Sat, 12/11 - Fri, 12/17
Week Ten - California - Sat, 12/18 - Fri, 12/24
About Me

Monday, 11/15
Today, I drove down to Ninety Six to visit the Ninety Six National Historic Park.
The town name of Ninety Six was given by early traders in the 1700's because of the estimated travel distance (96 miles) to the Cherokee Village of Keowee in upper SC.
The Historic Park contains sunken roadbeds and the earthwork (no structure) of the star shaped British Star Fort. A mile long paved path leads one to original features of the fort and what was once the town of Ninety Six (grass fields now).
I also took a mile and half walk through the woods on the Gouedy Trail.
A lovely afternoon for a hike. I needed it to walk off the hamburger I had at the 96 Cheeseburger House. Thanks, Larry, for the recommendation.
Sunken roadbed.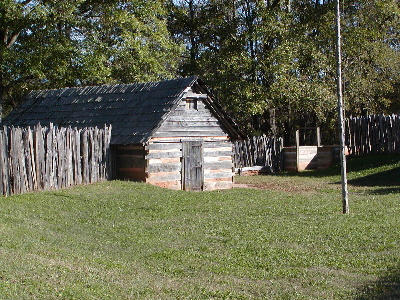 Reconstruction of a stockade fort which, in the 1780's, protected the town's water supply.


Tuesday, 11/16

Got second oil change of the trip for my car, a car wash (new wiper blades too), saw another Grrrowl win, then started heading to Wheeling, WV (more on that later).
I have driven 5,278 miles on this trip so far and it's been 3,000 or so since the last oil change. So, got the car done up and ready for 3,000 more.
The Grrrowl played an exciting game today, beating the Wildcatters in a shoot out. They have won five of their last six games.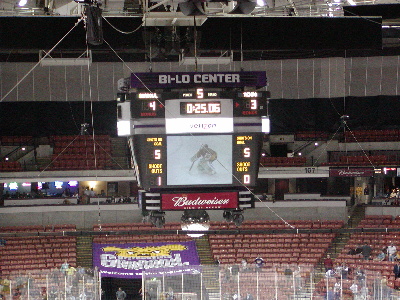 Game Nineteen - Bi-Lo Center
Grrrowl vs. Wildcatters
Score: Grrrowl 4 - Wildcatters 3

Wednesday, 11/17

I was a bozo for this part of the trip. I headed up to Wheeling, WV to see the Nailers play. Checked into the hotel, rested a while then headed to the WesBanco Arena. Turns out, the Nailers were playing a home game but they were playing it at the Iceoplex (45 minutes north into PA.) I didn't go - it was dark and raining. The nice fellow at the WesBanco parking garage tried to give me directions but he wasn't very confident.
I returned to my hotel room and pouted. Then I checked the rest of my schedule to make sure I hadn't goofed up on other games. Turns out, there wasn't a game in Johnstown the next night (that's what was on my itinerary). I checked all league sites for a nearby (somewhat nearby) game on Thursday. The only one close was in Cleveland. I had thoughts of driving to Cleveland then head to Norfolk for the Friday game. Those thoughts didn't last long. Cleveland's too big of a city for my comfort to drive in and the drive to Norfolk would have been a long one.
So, I pouted some more then went to bed.

Thursday, 11/18

I slept in late today. Didn't get on the road until about 11 am. Headed east and south to Norfolk, VA. Of course, I hit Washington DC rush hour traffic and couldn't even make it all the way to Norfolk. I did get to view some nice farms in PA and MD driving on the Turnpike and down I-70.

Next
Previous
Home


Hockey Home Page
Baseball Home Page