Hockey Road Trip, Fall 2004
Week One - Southwest - Sat, 10/16 - Fri, 10/22
Week Two - Texas - Sat.,10/23 - Fri, 10/29
Week Three - Southeast - Sat, 10/30 - Fri, 11/5
Week Four - Southeast - Sat, 11/6 - Fri, 11/12
Week Five - Mid Atlantic - Sat, 11/13 - Fri, 11/19
Week Six - Long Island - Sat, 11/20 - Fri, 11/26
Week Seven - Midwest - Sat, 11/27 - Fri, 12/3
Week Eight - Midwest - Sat, 12/4 - Fri, 12/10
Week Nine - Las Vegas - Sat, 12/11 - Fri, 12/17
Week Ten - California - Sat, 12/18 - Fri, 12/24
About Me

Saturday, 11/13
Drove from Columbia to Greenville after the game last night. John and I had lunch with Brad and Eileen at the Corner Pocket (sports bar in downtown Greenville).
The evening brought an excellent hockey game - the Greenville Grrrowl vs. the Charlotte Checkers. The Grrrowl won their first home game this evening. I saw and visited with many old friends at the game.
Didn't take any notes because I was being entertained by my old buddies (Grrrowl fans).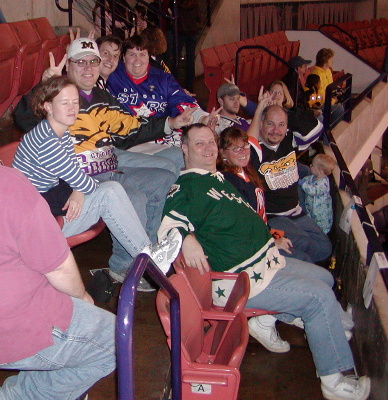 Here's me and my hockey friends giving each other the horns.





Here's the ice surface taken from section 228 (the dogpound). It's a big ice surface. There're more advertisements on the ice than I remember when I went to games here regularly.
The Grrrowl (tied for last place in the league at this point in the season) played the Checkers (tied for first place in the league at this point the season).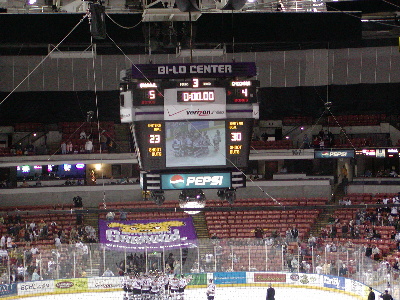 Grrrowl win!!!!


Game Seventeen - Bi-Lo Center
Grrrowl vs. Checkers
Score: Grrrowl 5 - Checkers 4

Sunday, 11/14

Drove down to Ninety Six to visit the Ninety Six National Historic Park. Had lunch in Greenwood. Didn't have time to tour the park. More on Ninety Six under Monday's section.
Headed back to Greenville for an afternoon hockey game: Grrrowl vs. Wildcatters at the Bi-Lo Center.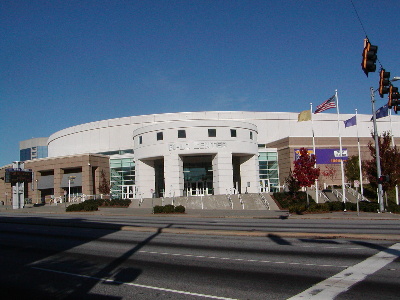 Here's the Bi-Lo Center in Greenville, SC.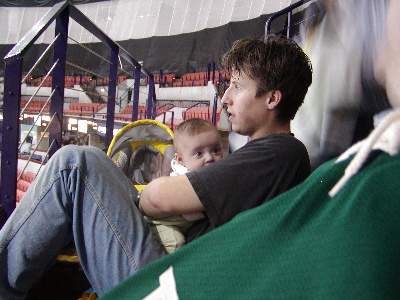 Here's Mercer (newest member of the Dogpound) and his dad, Robert.
When it existed, Robert was the webmaster of www.grrrowlfan.net, a website for the fans, by the fans of Grrrowl Hockey.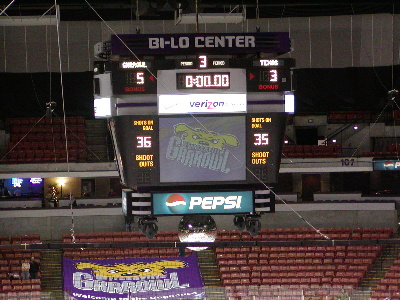 The Grrrowl won this game 5 - 3 against the Wildcatters.
That's two in a row now. Of the 5 games I've seen them play, the Grrrowl have won 4 of them.
They are 4 - 6 - 0 and are not in last place anymore.


Game Eighteen - Bi-Lo Center
Grrrowl vs. Wildcatters
Score: Grrrowl 5 - Wildcatters 3



Next
Previous
Home


Hockey Home Page
Baseball Home Page