Hockey Road Trip, Fall 2004
Week One - Southwest - Sat, 10/16 - Fri, 10/22
Week Two - Texas - Sat.,10/23 - Fri, 10/29
Week Three - Southeast - Sat, 10/30 - Fri, 11/5
Week Four - Southeast - Sat, 11/6 - Fri, 11/12
Week Five - Mid Atlantic - Sat, 11/13 - Fri, 11/19
Week Six - Long Island - Sat, 11/20 - Fri, 11/26
Week Seven - Midwest - Sat, 11/27 - Fri, 12/3
Week Eight - Midwest - Sat, 12/4 - Fri, 12/10
Week Nine - Las Vegas - Sat, 12/11 - Fri, 12/17
Week Ten - California - Sat, 12/18 - Fri, 12/24
About Me

Sunday, 12/5
Today, I drove from Topeka, KS to Castle Rock, CO. Long drive. Much rain in Kansas. Clear skies and very bright sun in Colorado.
Feels good to be home but funny not to be traveling.
I'm off again on Thursday or Friday to Las Vegas for a few days and then the west coast.
Monday, 12/6
Errand day, today. Oil change, shopping, hair cut, laundry. That kind of stuff.
Tuesday, 12/7 (Pearl Harbor Day)
It was a well needed rest day for me. Think I'll do the same tomorrow.
I met Cathy for lunch but that was the extent of my activities.
I did get an email from the Topeka Tarantulas radio broadcaster asking if I would do a phone interview about my trip. I emailed him back and said yes but haven't heard back from him.
I listened to a Grrrowl vs. Falcons game on webcast. Didn't get to hear Chris (radio guy from the Grrrowl) since he didn't make the trip. Grrrowl won 4 - 3 in a shoot out. I believe they are at .500 now.
Wednesday, 12/8
Today was a half rest, half errand day. Packing for my trip tomorrow, lounging around in sweat pants and sweat shirt, bothering John via IM at work, proofreading.
I did do that radio interview with Bob Rennison from the Tarantulas. He's expecting to broadcast it some time next week between the 2nd and 3rd period at one of their away games. It'll be on webcast.
I'll keep you all posted in case you want to listen.
I got two new tires on my vehicle. The back ones were SO bald. I can't believe I was driving cross country on those. Thanks, Donna, for putting the bug in my ear when you mentioned you and V had gotten new tires. Anyway, I'm set for the west coast now.
More later.
Thursday, 12/9
After several days of much needed rest, I hit the road again. I drove from Castle Rock, CO and ended up in Grand Junction, CO. Took me close to 7 hours and that's not even stopping for lunch. I got caught in that snow storm in the mountains going over I-70. Talk about nasty! The wind was blowing the snow so hard I couldn't see a foot in front of me. Several times, I couldn't tell whether I was on the road or not. I had to remember to breathe.
When I finally made it to the west side of the mountains where the snow had stopped, I pulled into a rest area. I had to pry my hands and fingers off the steering wheel. When I finally did, I cried. Then, I got out of the car and just breathed. I was going to try to make it into Utah, but decided to be safe and stop in Grand Junction. It wasn't snowing there, at the time. I was a bonehead (Cathy's word) for even attempting the trip today. I was very, very scared. It is not something I would choose to do again. Hope my return trip is better.
Thank God, I got those tires yesterday. And, thank God, I'm safe.
More later.
Friday, 12/10

Drove from Grand Junction, CO to Cedar City, UT today. I'm taking it easy these days. A little fog across the border but beautiful blue skies the rest of the way. I never realized how gorgeous Utah was. My photos don't quite capture the beauty of the state, but here's a few. Mostly from the San Rafael Swell.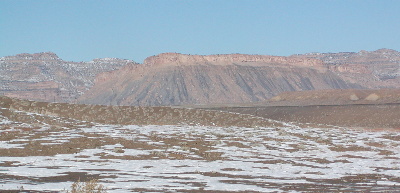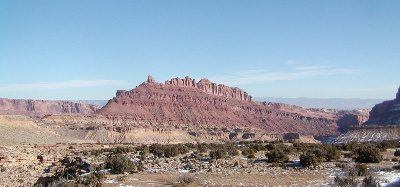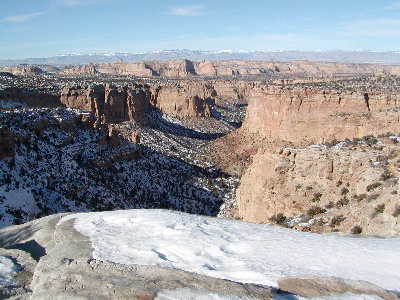 Very breathtaking.

I stopped at all the 'View Areas' thus causing my trip to take a little longer.

That's alright. It was worth the views.




Next
Previous
Home


Hockey Home Page
Baseball Home Page