Hockey Road Trip, Fall 2004
Week One - Southwest - Sat, 10/16 - Fri, 10/22
Week Two - Texas - Sat.,10/23 - Fri, 10/29
Week Three - Southeast - Sat, 10/30 - Fri, 11/5
Week Four - Southeast - Sat, 11/6 - Fri, 11/12
Week Five - Mid Atlantic - Sat, 11/13 - Fri, 11/19
Week Six - Long Island - Sat, 11/20 - Fri, 11/26
Week Seven - Midwest - Sat, 11/27 - Fri, 12/3
Week Eight - Midwest - Sat, 12/4 - Fri, 12/10
Week Nine - Las Vegas - Sat, 12/11 - Fri, 12/17
Week Ten - California - Sat, 12/18 - Fri, 12/24
About Me

Saturday, 12/4
Today, I drove from St. Charles, MO to Topeka, KS. There was no 'Welcome to Kansas Visitor's Center' via the route I went (I-70). I saw a Topeka Tarantula's game (CHL).
Notes:
The Tarantula's are in their inaugural season.
There was a hotel right next door (even closer than the one in Charlotte). And, it was nicer. I do like to walk vs. drive to a game.
There were LOTS of cow bells. None that rivalled Larry's but the number of bells matched the volume of his.
Fans were fantastic! Talk about rooting on a team. Loud, chanting, more or less polite comments to the players and refs, and the cow bells.
Here's one I hadn't heard before. As a puck gets iced, a fan yelled, "raise your hand if you're stupid". Of course, the linesman raised his hand to indicate an icing. I thought it was funny.
After a goal, the PA announcer not only chanted 'He Shoots' (and the fans answered) 'He Scores', they did that THREE times each goal. Very, very nice.
A gentleman played a trumpet for the National Anthem. Very beautiful.
The ice surface seemed smaller to me than other arenas. I felt very close to the ice in the seat I was in. Maybe it was just perception on my part.
Went up and visited Randy and JR in the OIO area. They had helped me with directions and visitor information via the Tarantula message board.
The only thing I didn't like was they turned off the lights after warm ups and left them off until the game started. It's not the first arena I've been to that has done that and I'm sure it won't be the last.
Too bad Topeka is 550 miles from where I live. I'd go back there in a heartbeat.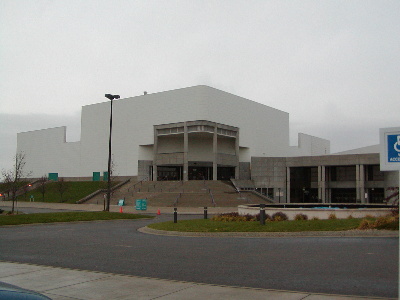 Here's Landon Arena at the Kansas ExpoCenter.
This photo was taken from right outside the hotel I stayed at.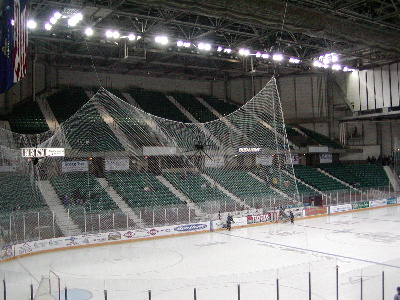 They had spiders on each of the nets behind the goal. Five or six on each side.
A very cool idea.
The arena seats 7,700 (I think). Two levels. I sat in the last row of the first level, center ice, facing the bench. Perfect seat for me.
In this photo, that would be to the right.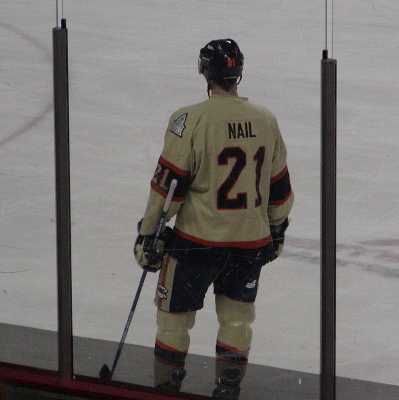 Landon Arena
Some of you Grrrowl fans out there may remember this player.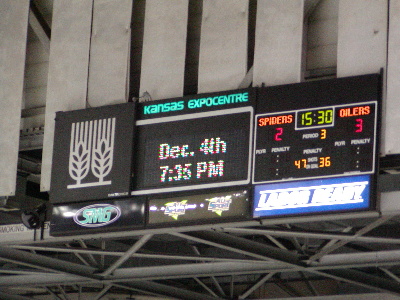 And the Tulsa Oilers win in a shoot out 3 - 2. I bet they put Spiders on the scoreboard because Tarantulas wouldn't fit.


Game Twenty Five - Landon Arena
Topeka Tarantulas vs. Tulsa Oilers
Score: Oilers 3 - Tarantulas 2



Next
Previous
Home


Hockey Home Page
Baseball Home Page